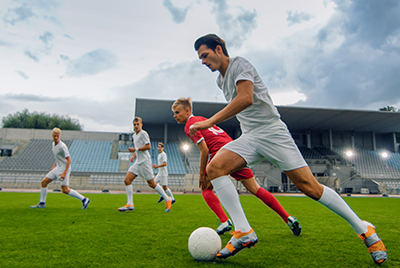 This June, we celebrate Men's Health Month! Let's raise awareness about preventive health practices to benefit men. Male athletes, in particular, are especially vulnerable to injuries that can impact their overall health and wellness.
Men often experience the cultural pressure to "man up" and perform at all costs in sports competitions. This can lead to the wrong results, however. Recent studies show that overtraining syndrome affects most elite and non-elite endurance athletes.1 When people overtrain, they struggle with performing, so prioritizing downtime is crucial. In addition to helping you reach your goal, these tips will protect your long-term health.
Men should consider and adapt a program to prevent injuries and enhance performance using these tips.
Exceptional nutrition: Eating the right foods can enhance athletic performance. A balanced diet of carbohydrates, proteins, and healthy fats is essential. During recovery, a post-workout meal should replenish nutrients lost during working out.
Prioritize sleep: It is imperative to get enough sleep, which is a crucial factor in maximizing performance. When you sleep, your heart has time to rest, which allows your cells and tissues to heal. Cell and muscle growth and repair occur during sleep. Sleep helps us manage stress and anxiety effectively; it is critical to get enough sleep.
Change your workout routine: You will not achieve the best fitness results if you consistently follow the same routine. For the best results, switch up your workout routine every three weeks. Focusing solely on bulking up muscle to improve athletic performance is not beneficial. Changing your workout routine enhances muscle strength, reaction time, and mental acuity.
Hydration: Sweating causes your body to lose fluids. Proper hydration can improve your athletic performance and energy levels. Drinking enough fluids can maximize your circulation, support joint movement, regulate body temperature, and fight dehydration. In addition to drinking water, replenishing electrolytes is essential for proper health and hydration.
Rest and recovery: When you participate in sports, you push your body to the limit. Exercise causes tiny tears in your muscle tissue. It takes time for your muscles to heal. Blood circulation increases during active recovery, which helps remove waste products from soft tissue broken down by intense exercise. Muscles, tendons, and ligaments are then repaired and rebuilt by fresh blood flow.
New Jersey Orthopaedic Institute (NJOI) offers non-surgical and surgical treatments for patients of all activity levels, including competitive and professional athletes and recreational athletes. We create individualized treatment plans that include injury prevention, athletic conditioning, rehabilitation, sports nutrition, and sports psychology.
AUTHOR: Vincent K. McInerney, MD, is Board Certified by the American Board of Orthopaedic Surgery and a Fellow of the American Academy of Orthopaedic Surgeons (AAOS). He is currently the longest standing committee chairman of the Medical Society of New Jersey's (MSNJ) Committee on Medical Aspects of Sports. He has served as team physician and medical coordinator for the United States Olympic Team Handball Federation, Colorado Springs, Colorado. Dr. McInerney has received the Physician of the Year Award for the Eastern Athletic Trainers Association, Physician of the Year for the Passaic County Medical Society, Educator of the Year Award at Seton Hall University, an active member of the Harvard Medical Alumni Association.