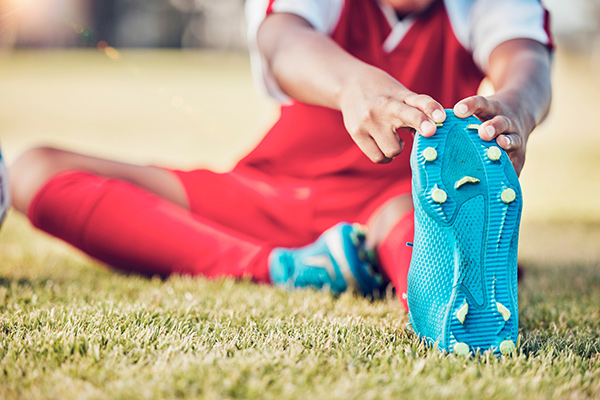 Gearing up for fall sports? Let us help get you started on the right foot. Participating in a sport at any level provides many health benefits. Along with these benefits, there is risk for injury, especially when it comes to properly protecting an athlete's legs, ankles, and feet.
Poor fitting athletic shoes can cause common foot issues such as blisters, calluses, corns, and ingrown toenails. Playing sports or competing with the wrong footwear can cause more severe orthopedic conditions, such as bunions, hammer toe, plantar fasciitis, achilles tendinitis, shin splints and even stress fractures. A sprained foot or ankle can be caused by wearing the wrong footwear, taking you out of the game and on the sidelines. Wearing the wrong shoes over time can cause back and knee pain from improper support. This can affect your posture and stability causing joint pain over time.
If you or your student athlete plan to participate in a specific sport more than two times a week, start by picking the appropriate athletic shoes to minimize wear and tear on your joints, and ultimately prevent sports injuries.
Get the appropriate shoe for the sport
Walking shoes should provide stability through the arch of the foot, have a smooth tread, and maintain good shock absorption. Running shoes should provide cushioning, support, comfort, and motion control. Basketball, Volleyball, Tennis, and Pickleball shoes should have a solid tread to provide constant stability as the athlete moves in all directions. Soccer, Football, Lacrosse, and Baseball often need a cleated shoe so that the athlete has traction on grass or turf. Ice hockey players need footwear designed specifically for their position and should have a personalized fit for comfort and injury prevention. Knowing what position an athlete plays will also affect what type of shoe is needed.
Get fitted properly for arch and ankle support
All athletic shoes or skates should feel supportive, comfortable, and fit well. Consider using orthotics or customization when fit is an issue, or get help from an expert to custom fit your shoes. The right shoe choice can be a necessary investment to keep your joints and body healthy throughout the fall season.
Replace athletic shoes regularly
Athletic performance is affected by footwear fit and condition, so take time to replace your footwear each season as it wears out. Wear and tear can ultimately be a safety issue for the player or athlete.
Prevent injuries this fall from the ground up by choosing the right footwear. The New Jersey Orthopaedic Institute specializes in treating young athletes for sports injury prevention and injury. Athletes at any age or level should have fun and stay safe. We offer cutting-edge compassionate orthopedic care to thousands of student athletes treating injuries ranging from sprains and strains to complex injuries for over 42 years.
AUTHOR: Michael K Shindle, MD is a board-certified fellowship-trained orthopedic surgeon specializing in sports medicine and hip and knee joint replacement surgery in Wayne, New Jersey. Dr. Shindle has experience as a Team Physician for the National Hockey League, New Jersey Devils, Orthopedic Consultant for the National Football League, New York Giants, Team Physician for the Major League Soccer, New York Red Bulls, Team Physician for USA Hockey, Team Physician for US Men's Soccer, Team Physician for Fairleigh Dickinson University, and Team Physician for Madison High School.