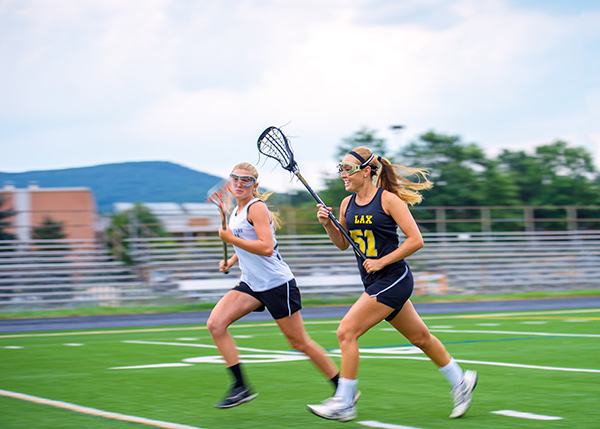 Teens and adolescents across America are headed back to school, bringing the exciting return of youth sports. With 35 million participating in youth sports each year, the number of kids playing sports year-round is increasing.1Although sports benefit many students physically, socially, emotionally, more time on the fields brings an increase in sports-related injuries. In fact, middle and high school students overuse injuries account for almost half of all sports injuries.2
Overuse injuries can be serious, causing health conditions like Tennis or Golfer's Elbow, Runner's Knee, Stress Fractures, Rotator Cuff Tendinitis, Sever's Disease. Popular sports like soccer, football, swimming, baseball, and volleyball can contribute to overuse injuries in teens.
Before the season starts, talk to your teens to take these simple steps to play it safe.
Warm-up and cool down properly to avoid injury. You can prevent injuries and relieve muscle tension by stretching before a game. Incorporate this extra time into each workout routine without exception.
Start back gradually or train consistently all year. Don't rush into preseason and prepare your body for endurance training before preseason. Assess your fitness level with your coaches or trainer, and develop a plan to introduce exercise and strength training with gradual progression
Stay hydrated to prevent heat-related illnesses and optimize performance. Teens should be adequately hydrated before, during and after completions. Athletes should drink even more water for proper absorption than an average person.
Sleep is essential, especially for growing teens, and crucial for physical and mental performance. Teenagers require 8-10 hours of sleep each night to regenerate and grow.
Taking time off from training is crucial for recovery and building strength. Teens should allow their bodies to recover during the season, taking at least one day off each week.
Wear the correct protective gear. Check with your coach to see which equipment is needed and ensure it fits correctly
Eat a nutritious diet. The best way to power your game is to eat healthy, balanced meals and snacks to nourish your body. Malnourishment can cause growth problems and contribute to bone fractures, and soft tissue injuries.
Opt out of playing one sport year round. Overloading on a single sport 12 months out of the year can cause overuse injuries of your joints that will keep your students on the sidelines if not rested.
Middle school and high school student athletes should have an open line of communication with parents, trainers and coaches to communicate any physical issues or recurring joint pain. Properly addressing orthopedic injuries when they happen will prevent future damage to the joints, cartilage and tendons.
The New Jersey Orthopedic Institute specializes in treating young athletes, encouraging teens to have fun and stay safe. We offer cutting-edge compassionate orthopedic care to thousands of young athletes, treating injuries ranging from sprains and strains to complex injuries for over 42 years
AUTHOR: Vincent K. McInerney, MD, is Board Certified by the American Board of Orthopaedic Surgery and a Fellow of the American Academy of Orthopaedic Surgeons (AAOS). He is currently the longest standing committee chairman of the Medical Society of New Jersey's (MSNJ) Committee on Medical Aspects of Sports. He has served as team physician and medical coordinator for the United States Olympic Team Handball Federation, Colorado Springs, Colorado. Dr. McInerney has received the Physician of the Year Award for the Eastern Athletic Trainers Association, Physician of the Year for the Passaic County Medical Society, Educator of the Year Award at Seton Hall University, an active member of the Harvard Medical Alumni Association.