Former Rutgers standouts Mike Burton, Kevin Malast and Devin McCourty worked with youth football players on Monday at New Jersey Orthopaedic Institute's annual injury prevention camp.
"It's always cool to talk to kids about anything, and especially when it's outside of playing safety or defensive back, being able to teach them other things that go into playing football," McCourty said after the camp, held at Seton Hall Prep's athletics facility in West Orange.
"Giving them some little nuggets I've learned along the way that I kind of wish that I knew when I was younger. I was always that kid that said I don't need to stretch, I can wake up and run, but I'm 30-years-old now and I wish I would have stretched a lot. Since we're in the NFL, hopefully they listen more."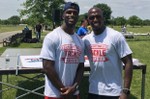 Injuries have become a major issue for young athletes due to a concept referred to as "the professionalization of youth sports," Dr. Anthony Scillia said. As demands on youth athletes have increased, so have injuries similar to the ones most commonly associated with high-level sports. For example, NJOI has performed ACL reconstructions on athletes as young as 6-years-old.
"One of the most enjoyable things about our practice is to try to prevent the injury," Scillia said. "Even though we're surgeons, the main focus is trying to prevent athletes from going through it. This is a big event for us, with people that are such good role models that kids can talk to and admire."