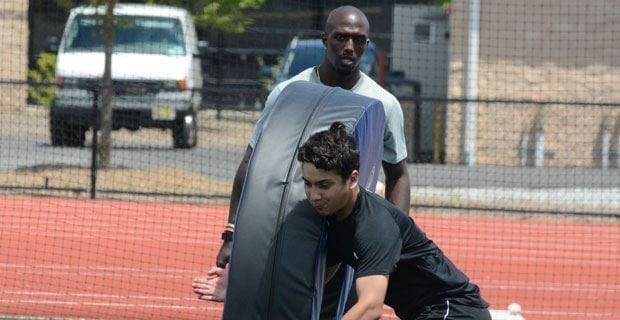 Devin McCourty (Photo: John Otterstedt, 247Sports)

A large group of young football players descended upon the campus of Seton Hall Prep high school in West Orange (N.J.) on Monday to work with a trio of former Scarlet Knights. The special guest coaches included Devin McCourty, Michael Burton, and Kevin Malast.
"It is a blessing for us to have these guys who did so many great things at Rutgers – guys that put them on the map – come out and work with the kids," said Seton Hall Prep head coach Bill Fitzgerald. "You can see that they are great football players, but also great people. They have had some great coaches themselves, and they want to pay it forward. We are happy to have them here at Seton Hall Prep."
The trio put the participants through drills and spoke to them about injury prevention. It is a topic that is near and dear to Dr. Anthony Scillia, whose New Jersey Orthopedic Institute sponsored the event.
"I think it means a lot to the kids because they (McCourty, Burton, Malast) have been through all of this, and they have had to deal with their injuries. They can speak to them about how to prevent injuries, how to recover from them, at the highest level. The kids can relate to them."
Burton, a fullback for the Chicago Bears, says that the key to injury prevention is to "invest" in your body.
"That's what keeps you at this level. If you are hurt and you can't play, then you don't have a shot," said Burton. "You give yourself a shot when you are 100 percent healthy, and that is something that you can greatly control. With a lot of these injuries, these soft tissue injuries, more likely than not they are from a lack of stretching, lack of sleep, lack of stretching and things you can control. They are things that you can control, and I am out here trying to help the kids understand that."
For two-time Super Bowl Champion Devin McCourty of the New England Patriots, the visit to Seton Hall Prep was one of many community outreach programs that highlight his calendar. He was constantly flanked by the young participants, many of which looked for any opportunity to ask him about life in the NFL.
"Coming into the league, I always wanted to do stuff like this and give back," said McCourty.
At the conclusion of the two-hour workout, the kids sat in the stands while each guest shared their experiences and insights. That was followed by photo opportunities and a line of autograph seekers.
For McCourty, Burton and Malast, it was just two hours of their lives. But for the kids who walked away with a photo or autograph, the memory will last a lifetime.