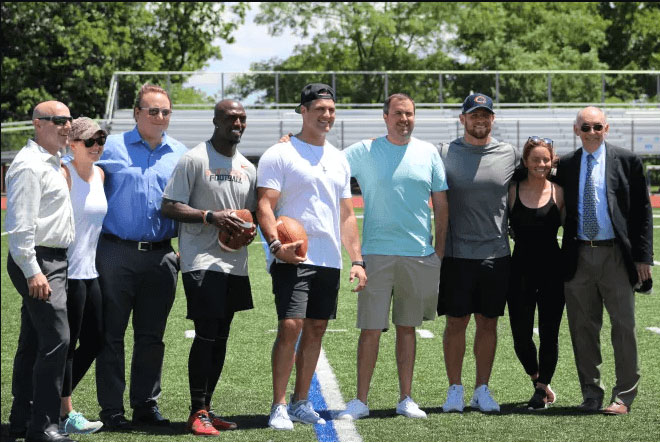 On Monday morning, Seton Hall Prep football program hosted an injury prevention camp to inform football players of all ages about how to prevent injuries both on and off the field.
The event was organized by the New Jersey Orthopaedic Institute and even had some of their top surgeons come to the camp to speak with the campers about injury prevention and much more.
One of the top doctors who was at the camp was Dr. Anthony Scillia who has worked with various professional and college organizations such as the Birmingham Barons, New Jersey Devils, Seton Hall Athletics, University of Alabama athletics, and many more. Scillia is also a Rutgers New Jersey Medical School graduate.
The Knight Report spoke with Scillia after the camp to see what he thought of the event.
"I think a camp like this really means a lot," Scillia told TKR. "Just to get with some of the highest level of athletes, guys who are real role models for the kids and have them talk about something that not a lot of people want to talk about. Just talk about injuries, going through the injuries, how to prevent them, and just how much they learn about this going through it. If you talk to a lot of these professional guys, they know just about as much as doctors when it comes to these injuries. It's just all about teaching the kids about what they can do to prevent the injuries."
Along with playing host to multiple doctors and surgeons, the camp also had some of the top local NFL talent come to help teach the campers in a couple of drills.
One of the top guys at the camp was former Rutgers and current New England Patriots safety Devin McCourty.
"As professional athletes I would've love back when I was a kid to go to a camp where any NFL player was there," said McCourty. "I've had an opportunity to do a ton of these camps now. It's all about teaching the youth. Obviously you want to teach them some key things in football, but also teach them some valuable lessons you learned through sports. I've always just tried to be energetic and talking and hope they can learn something from that."
The camp also featured one more former Rutgers and current NFL player in fullback Michael Burton. For the past year Burton has been a member of the Chicago Bears and was eager to get back home to New Jersey and work with some of today's youth.
"It's awesome to help out all these kids," Burton said. "Sometimes these kids put a bigger smile on my face then I do on theirs. Just to see them out here working, when they don't have to be in the summer is just a true testament to who they are and want to become. Just seeing these kids out here trying to get better shows their commitment to the game."
Stay tuned right here on TheKnightReport for more on McCourty and Burton later this week.